EN These are programs that can load TAP and snap files, and are originally written for competitive and by no means flawless IDE hardware, the name of which will never appear on my web:-). I am not going to describe both systems here, the required info can be found on their authors' websites (FATware here or on Velesoft's site and for Demfir here). What we need, is to know more about both modifications for MB-02+. And just because of the fact that both programs are alike as far as MB-02+ system is concerned, I describe them together.
The creator, Velesoft, asigned three SRAM pages for each one. One comprises ZX Spectrum ROM, and the others contain code of both programs. Velesoft also prepared two versions with two types of ROM. Both are 48k ROMs, but one is from the 48k machine and the other from the 128k machine. As you may now, both ROMs differ slightly, but just enough for some 128k games to fail to load, as they test just these differing bytes. It means, if one version of Demfir/FATware will not run, try out the other. What is essential for the MB-02+ user is, that Velesoft made also simple BASIC installer, which enables you to install Fatware or Demfir to whichever SRAM page. The first in a row is always ZX ROM, so if you install FATware e.g. from the page 74, it will also consume pages 75 and 76. And now attention, please. It is the nmi button, which is bringing you into nmi handling at both systems, and only here you are able to make TAP or snaps selection and to load them. How are we going to get into their menu on our beloved MB-02+, when our system always pages in page number 0, i.e. mostly BSROM? Well, you may install FATware or Demfir to page 0, resulting in installation of BSDOS and BSROM anywhere else, to put it short, we are rejecting this solution on this website, by no means:-)
THE CORRECT SOLUTION: those who are waiting for the answer: "Simply, use Hood's nmi menu", are waiting correctly, indeed and I am rewarding you with 100 points:-). In the nmi menu, I prepared a key H, through which you can leave nmi menu to desired address and with the desired SRAM page in the lower 16kb. You have to exploit this feature, but before that you will want to prepare the jump in the setup. Press H in the setup, select the SRAM page, it will be the page which you entered in the BASIC installer as first, it will be ZX ROM comprising nmi handling. And as jump address enter 144, which is a jump to nmi handling routine. Quit setup and from now on, you have to quit nmi menu not with Q key, but with H key, that you have just prepared in the setup. After H quit, you find yourself in the nmi of both programs.
Could it be done easily? Yes, like I have it at home, using KMOUSE and a slightly modified HW in MB-02+, I have a nmi button on the KMOUSE, which however does not change SRAM page after it has been pressed (thank you, Velesoft).
And that is all what an MB-02+ user needs to know about FATware and Demfir.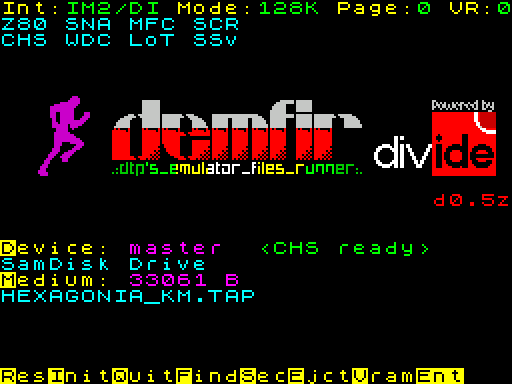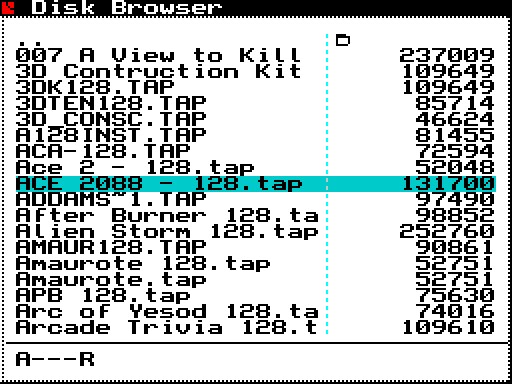 CZ Jedná se o programy, které umí jen load TAPek, a snapů a jsou původně psané pro konkurenční nedokonalý IDE hardware, jehož jméno se na mém vlastním webu nikdy neobjeví:-). Nebudu zde popisovat oba systémy, to si najdete na webech jejich tvůrců (pro FATware zde nebo u Velesofta a pro Demfir zde). Nás zajímají obě modifikace pro náš systém na mbčku. A právě protože jsou oba programy systémově pro mbčko shodné, popíšu je společně.
Tvůrce, Velesoft, jim přidělil každému 3 SRAM stránky. V jedné je ROM Spectra, a v dalších dvou stranách pak kód obou programů. Velesoft rovněž připravil verze se dvěma typy ROM. Obě jsou to 48k ROM, ale jedna pochází ze stroje 48k a druhá je ze 128k. Jak známo, obě ROM se liší mírně, ale i to stačí, aby vám některé 128k hry testující právě určité bajty 48k ROM nejely. Když vám tedy nepojede 48k verze Demfir/FATware, zkuste druhou. Co je pro MB uživatele podstatné je to, že Velesoft rovněž udělal i jednoduchý instalátor v BASICu, který se vás zeptá, od které stránky chcete FATware nebo Demfir nainstalovat. První v pořadí je vždy ZX ROM, takže když si třeba FATware nainstalujete od stránky 74, pak bude zabírat ještě dvě další 75 a 76. A teď pozor. Pro oba systémy je životně důležité tlačítko nmi, které vás dostává do jejich nmi obsluhy, která vám teprve umožní si vybrat TAPku nebo snap a nahrát jej. Jak se ale my na MBčku dostaneme do jejich nmi obsluhy, když naše nmi tlačítko vždy přistránkuje stránku 0, tedy zpravidla BSROM? Nabízí se instalace programů od stránky 0, tím pádem musíme instalovat BSDOS i BSROM jinam, prostě toto řešení na našem webu zavrhujeme:-)
SPRÁVNÉ ŘEŠENÍ: kdo čeká, že odpovědí mu bude: "Použijete Hoodovo nmi menu", tak čeká velmi správně a dostává ode mne 100 bodů:-). Totiž v nmi menu jsem pod klávesou H připravil výskok z menu na jakoukoliv adresu a s libovolnou SRAM stránkou připnutou ve spodních 16kb. Tohoto využijete, ale nejprve si v setupu musíte adresu i SRAM stránku nastavit. V setupu opět klávesou H si tedy nastavte SRAM stránku tu, kterou jste při instalaci FATware či Demfiru zvolili jako první, tam bude ZX ROM a v ní obsluha nmi. A jako odskokovou adresu si nastavte adresu 144, což je právě skok na obsluhu nmi přerušení. Poté vyskočte ze setupu a z nmi menu teď nebudete vyskakovat pomocí klávesy Q, nýbrž klávesy H. Po stisku H se ocitnete v nmi menu obou programů.
Šlo by to i jednodušeji? Šlo jak to mám já, a to za pomocí KMOUSE a trošku modifikovaného HW v mbčku, kdy mám na KMOUSE taky nmi tlačítko, které po stisku nemění SRAM stránku (díky Velesofte).
A to je vše co mbčkář potřebuje k FATware a Demfiru vědět.