EN Good old things never rust! As our nice Prometheus assembler is prooving and many a good soft was written in it. This time, Velesoft got involved and removed necessity to have ROM present all the time in Prometheus. For MB-02+ users, it means a revolution- we can now trace even in BSDOS, which is bringing coding and tracing on a real machine and MB-02+ a step further.
Another thing, that we gain by Velesoft's modification is a possibility to compile our code into lower 16kb of memory, thus, you do not have to ldir your code that is working in some of SRAM pages anymore, but you are compiling (and tracing) directly into desired SRAM page. And how to do it? Prometheus obviously does not know, that ROM is missing to him, on the other hand it does not have commands for SRAM paging. It means, that you have to page the SRAM in the monitor. In the monitor, you simply out whichever SRAM page you want, and then back in the assembler just enter the command ASSEMBLY or RUN. Thank you, Velesoft!

NOTES FOR THE WORK:
Velesoft made an instalation BASIC, where he takes a standart Prometheus, and patches it, then saves it from the BASIC. This saved version is the MB Prometheus, which you are then using.
MB version begins at 44854, while the standart old one on 45920. Like the standart version, the MB version is protecting itself, i.e. from 44854.
paging in SRAM pages has to be done in the monitor with instructions LD A,SRAM page number, OUT (23),A
quit to BASIC have to be done with the ZX ROM paged in, otherwise crash is imminent.
The online manual is here. Many manuals are also in the file.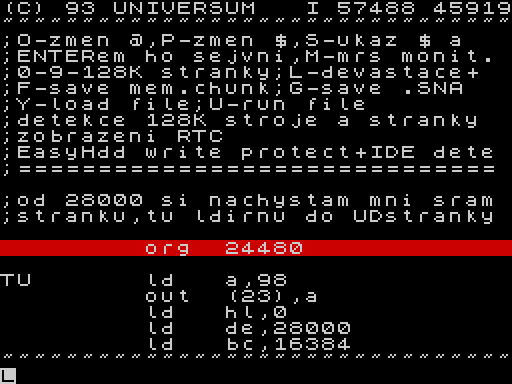 CZ Staré dobré věci nerezaví. A to platí i o našem milém assembleru Prometheovi, ve kterém vzniklo mnoho super softu. Ujal se toho Velesoft, a odstranil u Promethea nutnost mít dole ROM ZX Spectra. Pro uživatele mbčka to znamená revoluci- mohou si trasovat i v samotném BSDOSu, což zkvalitňuje trasování a kódování pro reálné mbčko.
Další věc, kterou Velesoftovou úpravou získáváme je možnost kompilace kódu do oblasti paměti spodních 16kb, tedy váš kód pracující v některé z SRAM stránek nemusíte složitě ldirovat, ale překládáte (a i trasujete) si jej přímo do požadované stránky. A jak toho docílíte? Prometheus samozřejmě vůbec neví, že nemá ROM, na druhou stranu však nemá příkazy pro stránkování SRAM stránek. Proto musíte stránkovat přes monitor. V monitoru si prostě naoutujete jakou stránku potřebujete a v assembleru pak jen zadáte příkaz ASSEMBLY, popř. RUN. Díky, Velesofte!

POZNÁMKY PRO PRÁCI:
Velesoft to udělal tak, že vezme standartního Promíka, z BASICu jej napatchuje a sejvne. Tuto sejvnutou verzi pak používáte.
MB verze začíná na 44854, zatímco klasická na 45920. Tak jako klasická verze, i tato sama sebe chrání, tedy již od adresy 44854.
připínat SRAM musíte opět z monitoru pomocí instrukcí LD A,č. SRAM stránky, OUT (23),A
výskok do BASICu se musí dít opět s připnutou ZX ROM, jinak vám to spadne
Onine manual v angličtině je zde. Ostatní manuály najdete v souboru.