EN Back in 1999, when Dron's hdd patch brought us 255 virtual drives, I was thinking how to make quickly a file searcher. So I sit, and wrote it in BASIC. Version 1.0 originated, then bug-fixed version 1.10. Recently I have opened it, and found out that it was designed for Dron's hdd patch, which it was working good with, but it was not very comfortable for Easy Hdd, on the other hand. So, I remade it, and am bringing it in version 2.0- this time more convenient for Easy Hdd (with master and slave virtual drives). The program has two basic functions:
Searcher of virtual drives on hdd/CF HDD SEARCHER
Searcher of diskettes DISKETTE SEARCHER
1) HDD SEARCHER, see the screenshot- you have 5 keys. 1 on/off toggle to signal, that you wish to search also for erased files, 3 and 4 search all master/slave disks, 5 user definable disk interval (see further) and 2- searching, where you enter desired disks for searching manually (most probably the most often used function). At 3, 4, 5- the disks are default- you straight input a name to be searched, at 2 you first have to input disks. Inputing is similar (or maybe alike) to Omega's CRTAP. You can either input single disk numbers, or interval, or both. Single inputting looks like 3 ENTER, 10 ENTER....interval <50,100> looks like 50 ENTER, TO (SS+F), 100 ENTER. Selection is ended by entering 0 zero ENTER. At 2, if you enter SPACE as first item, searching of all disks from the beginning to the end will automatically start. After inputting name, searching itself begins.
This is realised, of course, through the BASIC command .SEARCH. If the desired name is found, the file will be displayed and nothing happens until any key is pressed. So, do not await a list of found files.

2) DISKETTE SEARCHER, see the screenshot- this searcher was already in the version 1.10 and I left it also in version 2.0. After all, you might find it useful when searching programmes on old diskettes. You can choose a number of drives. Having two drives means really so much discotheque for you, that you hardly manage to feed the drives with diskettes:-)) You start off with drive number 1, and while the diskette is being searched, you are putting anther one into drive two, but even before its slot is closed, the searcher is back and wants another diskette... and so on:-))

3) SEARCHER MODIFICATION- the user can modify the program in a following way:
to disable totally the DISKETTE SEARCHER- remove REM in the line 8
HDD SEARCHER, choice 5- the user defined interval of disks- let's say you have games in disks 50- 100 and often are searching on these disks, then choice number 5 is here for you. You will want to change starting and ending disks variables on the line 5.
on the line 5 you will find "w" variable, this is a maximum disk number, default is 255. This variable is a remnant from previous versions, I recommend leaving it as it is.
And that's it. I do hope you find this program of mine useful, positive feedbacks are most welcomed.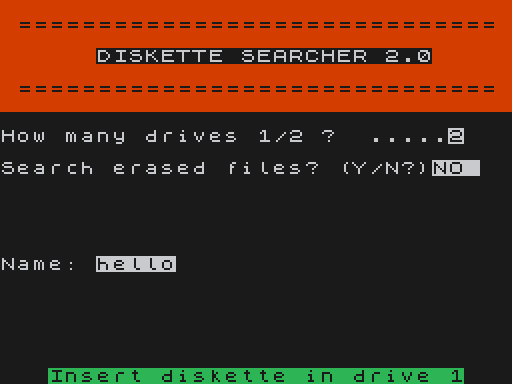 CZ Kdysi v roce 1999, kdy nám Dronův patch přinesl 255 virtuálních drivů, jsem přemýšlel, jak rychle udělat vyhledávač souborů. Inu sednul jsem, a napsal jej v BASICu. Vznikla verze 1.0, poté verze 1.10, kde jsem opravil chyby. Nedávno jsem ji otevřel, a zjistil, že byla psaná na Dronův patch, se kterým je dobře použitelná, ovšem pro Easy Hdd, byla nekomfortní. A tak jsem ji předělal, a přináším ji, ve verzi 2.0, a je uzpůsobená pro Easy Hdd. Program má 2 základní funkce:
1) prohledávač virtuálních disket na hdd/CF HDD SEARCHER
2) prohledávač floppy disket DISKETTE SEARCHER
1) HDD SEARCHER, koukněte na screenshot- je zde 5 tlačítek. 1. přepínač, zda chcete vyhledávat i smazané soubory, 3. a 4. prohledat disky master/slave, 5. interval disků definovaných uživatelem (info dále) a konecně 2. vyhledáváni, kde si zadáváte libovolné disky ručně (patrně nejčastější volba). U voleb 3, 4, 5 jsou disky dané- jdete rovnou na zadání hledaného řetězce, u volby 2 disky k prohledávání zadáváte. A to podobně (nebo snad i stejně) jako to má Omegův CRTAP. Tedy buď můžete zadat disky po jednom, nebo interval, nebo kombinace obou. Po jednom zadáváte např. 3 ENTER, 10 ENTER... interval <50,100> zadáte 50 ENTER, TO (SS+F) ENTER, 100 ENTER. Volbu ukončíte zadáním nuly 0 ENTER. U volby 2, pokud jako první zadáte jako disk mezerník SPACE, pak se automaticky budou prohledávat všechny disku od začátku do konce. A tím jsme se u voleb 2-5 dostali k samotnému vyhledávání.
To je samozřejmě řešeno BASIC příkazem .SEARCH. V případě, že se požadované jméno našlo, zobrazí se hledaný soubor, a čeká se na stisk klávesy. Tedy nečekejte žádný seznam nalezených souborů.

2) DISKETTE SEARCHER, koukněte na screenshot- prohledávač byl ve verzi 1.10 a nechal jsem jej tam i ve verzi 2.0. Přeci jen se může hodit, když něco hledáte na starých disketách. Máte možnost zvolit počet mechanik. Když máte dvě, tak je to taková diskotéka, že nestíhate diskety měnit:-)). Začínáte jedničkou, a mezitím, co disketa chrochtá, vy strkáte další disketu do dvojky, jenže než se vám zacvaknou dvířka dvojky, už vám searcher hlásí, abyste vložili další disketu .... a tak pořád dokola:-)

3) MODIFIKACE PROGRAMU- BASIC lze uživatelsky modifikovat a to:
vypnout zcela DISKETTE SEARCH- odstraňte REM v řádku 8
HDD SEARCHER, volba 5, uživatelský interval- máte-li třeba na discích 50-100 hry, a často na těchto discích hledáte, pak se vám může tato volba hodit. Počáteční a koncový disk si zadáte na řádku 5
na řádku 5 je proměnná "w"- zde zadáváte max. číslo disku, default je 255. Tato proměnná je pozůstatek z minulých verzí, doporučuji nechat beze změny.
A to je celé. Doufám, že se vám bude hodit, pozitivní ohlasy vítám.